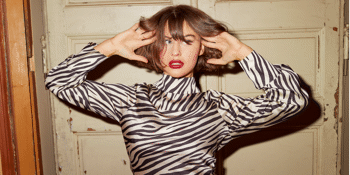 WME presents
Sloan Peterson
with Special Guests
Waywards (The Bank Hotel) (Newtown, NSW)
Friday, 23 April 2021 8:00 pm
A romantic, a dreamer, a poet, & woman of immense ambition and resilience. The moniker borrowed from the sweet-natured, intelligent & spirited deuteragonist in the iconic film Ferris Bueller's Day Off is the musical identity of Joannah Jackson, a Sydney-based artist blurring raw introspection with the stylistic and performative elements of '60s French rock of the yé-yé era and fresh electronic pop of today.
As a performer, Sloan's biggest strengths is her ability to give so much and yet remain so enigmatic: there is more to this musician than meets the eye, including life experience, determination, and a heart-on-sleeve attitude. "I romanticise everything. I'm a huge sucker for love... And with my music, I know what I want in life. I am ambitious," she says. "Music is so powerful in that way too. That's what makes me gravitate towards it: the power that it has to make you think and have these different emotions and feelings and views." In this artist's case, sometimes all at once.
"Moon & Back" (released March 5,2020) is the follow up to her critically acclaimed debut on Warner Music Australia "Nightmare". "The morning of writing this song I had been on the phone to my mum, hung up the phone saying (as I always do) 'Love you to the moon & back' before heading into the room. I had a session & I wrote down the line 'I love you to the moon and back' and the rest of the lyrics just came so easily. I had a vision of it being a 2000's r'n'b track like 'Gwen Stefani' 'Luxurious'," Sloan Says about the writing process of 'Moon & Back'."
TICKETING INFO
- Do not attend if you are feeling unwell
- All audience members will be required to sanitise & check-in upon entry to Waywards.
- Shows will be seated (1.5m apart) and limited to 62 per sitting to allow for social distancing.
- All seats & tables will be wiped down & sanitised between show sessions/sittings.
- Guests must be seated at all times of the show unless moving from one section of the venue to another - i.e toilet, smoking area etc. There is to be no standing and mingling among guests especially between different groups and alcohol can only be consumed by seated customers.
- Drinks can only be ordered through ME&U table service, no need to head to the bar! All tables will have their own ME&U beacon where guests can scan a QR code to view the drinks menu, order & pay as drinks are brought to them.
- Due to venue seating layout, tickets are only able to be purchased in groups of 2 or 4 (subject to availability for both)
- Patrons are to promptly leave once the shows have finished to ensure staff are able to sanitise and wipe down all surfaces before the next show.
The venue will be taking a number of precautionary measures to ensure patron safety, including:
- Hand sanitiser dispensers on entry and at tables
- Signage and social distancing markers throughout the venue
- Regular sanitising of the venue and full clean between sittings