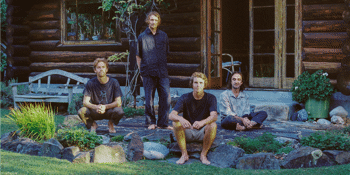 Soaked Oats
with Special Guests
Waywards (The Bank Hotel) (Newtown, NSW)
Friday, 12 August 2022 8:00 pm
"There's something infectious about their sound; it's happy, it's relaxed and a little bit cheeky." - Pilerats

"Bold colours and dancing beats cut nicely through the grizzly cold of the NZ winter, warming the bones with relevant words and pop/rock'n'roll rhythms - NZ Musician

Aotearoa / New Zealand sludge-pop connoisseurs Soaked Oats have today announced their return to the fine shores of Australia. With an arsenal of newly minted songs and ideas to share, the band are thrilled to present their endearing live show and road test new material this August.

Finally returning to Australia after earlier tours were scuppered by the raging pandemic, you can catch Soaked Oats begin their Australian jaunt in Brisbane on 11 August. The band will then play Sydney on 12 August, before heading to Melbourne on 13 August.

"We're really looking forward to playing new material and reconnecting with our fans in Australia." says Henry. "It feels almost like we're starting afresh after all this time away, and we've got a lot of collective energy to expel onstage together.

Soaked Oats are a four-piece band that percolated into existence in Dunedin, New Zealand. Catapulted by their fast-evolving song-writing chops and penchant for joyous performances, the band has developed adoring audiences worldwide.

The band is made up of lead vocalist Oscar Mein who scribes witty and thoughtful observations on life. Guitarist, Henry Francis widens the sound and scope of the group, while rhythm section Max Holmes (bass) and Conor Feehly (drums) provide the backbone and stability to keep things on course.

With an array of celebrated and acclaimed EPs in toe ('Sludge Pop', 'No Slip Ups', 'Stone Fruit Melodies'), the band endured the pandemic by diving into writing and recording their debut full-length album, which is nearing completion.