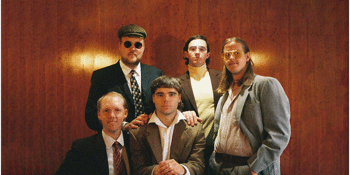 Raida Artists presents
The Velvet Club
with Special Guests
The Chippo Hotel (Chippendale, NSW)
Saturday, 5 June 2021 8:00 pm
The Velvet Club are set to unveil their new single 'Everything's Changing' May 7, a slice of delightfully relatable, jangly indie rock. Written and recorded on the brink of Melbourne's 2020 lockdown, 'Everything's Changing' explores the experience of finding a new sense of direction.
Along with the release the emerging indie-rock band announce they will be embarking on their first Headline tour in over a year. Playing shows in Sydney, Brisbane, Melbourne and Adelaide kicking off on the 5th June.
Forming in 2018 in Melbourne, the five-piece consisting of AJ, Sam, Tom, Dos and Macca have taken their emphatic live show from backyards to playing support for the likes of Great Gable, Eskimo Joe, Dulcie and Death by Denim.
Returning in 2021 with the single 'Alter Ego', the band have kicked off the year with two sold out headline shows in Melbourne at The Workers Club and The Tote and are excited to be releasing their next jangly single 'Everything's Changing' and heading around the country.
TICKETING INFO
Shows will be standing and limited to 70 due to social distancing measures
Artists to perform two separate sittings, 6:30pm & 9:30pm
Upstairs kitchen will be open and running a $15.00 burger + schooner of beer or cider deal for those who have purchased a ticket to the show
All customers entering the premise must sign-in by providing accurate contact details via the venue's QR code sign in registry at the entrance of the venue which is designed specifically for contact tracing if necessary.
The venue will be taking a number of precautionary measures to ensure patron safety, including:
Hand sanitiser dispensers on entry and through venue
Signage and social distancing markers throughout the venue
Regular sanitising of the venue and full clean between sittings