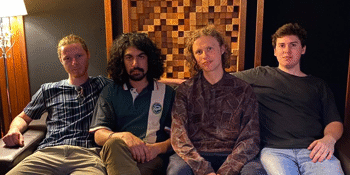 Your Mate Bookings presents
Hibiscus Biscuit - Late Show
with Wicked Things
Waywards (The Bank Hotel) (Newtown, NSW)
Saturday, 13 March 2021 9:30 pm
In the month of March 2021, A gift for all lies ahead from our mountain sons.
A vision, a sound from the flowers unbound, The Biscuit are back down since spring, to old Sydney Town.
Truth be told, the days have been bold, we have long awaited such a creation of gold.
The gurus are coming to "Crush these Rocks" so reach for a tree to keep yourself at ease.
With two sittings ahead and friends together; Wicked Things and Large Mirage will create such tremors.
And while we pray for the day this song to flourish; look deep at the place you can take your space, for the night gives life to the day that you graced.
www.yourmatebookings.com
TICKETING INFO
- Do not attend if you are feeling unwell
- All audience members will be required to sanitise & check-in upon entry to Waywards.
- Shows will be seated (1.5m apart) and limited to 46 per sitting to allow for social distancing.
- All seats & tables will be wiped down & sanitised between show sessions/sittings.
- Guests must be seated at all times of the show unless moving from one section of the venue to another - i.e toilet, smoking area etc. There is to be no standing and mingling among guests especially between different groups and alcohol can only be consumed by seated customers.
- Drinks can only be ordered through ME&U table service, no need to head to the bar! All tables will have their own ME&U beacon where guests can scan a QR code to view the drinks menu, order & pay as drinks are brought to them.
- Artist to perform two separate sittings, 6:30pm & 9:30pm
- Due to venue seating layout, tickets are only able to be purchased in groups of 2 or 4 (subject to availability for both)
- Patrons are to promptly leave once the shows have finished to ensure staff are able to sanitise and wipe down all surfaces before the next show.
The venue will be taking a number of precautionary measures to ensure patron safety, including:
- Hand sanitiser dispensers on entry and at tables
- Signage and social distancing markers throughout the venue
- Regular sanitising of the venue and full clean between sittings