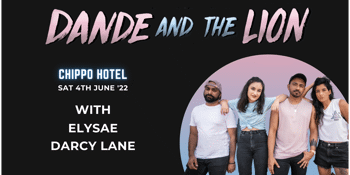 The Music and Booze Co presents
Dande And The Lion
with special guests Elysae and Darcy Lane
The Chippo Hotel (Chippendale, NSW)
Saturday, 4 June 2022 7:00 pm
"With touchstones found in the likes of the Yeah Yeah Yeahs, Middle Kids, The Preatures, Band of Skulls and Tame Impala, it's no surprise that Dande and The Lion stands as a killer combo of powerful melodies, delicate harmonies and eons of fun."
- Happy Mag
Sydney-based indie-pop band Dande and the Lion showcase a bright versatility that is rich with energy - a direct reflection of band members Abbey Gardner (vocals, keyboard), Natassa Zoë (vocals, guitar), Nicholas Shae (bass), and Chris Gabriel (drums).
Dande and the Lion
are continually proving
that they're not a group that only sticks to one sound, but are a band capable of effortlessly cruising between punchy indie-rock tones to dreamy electro-pop synths, always connected by their very distinct, dual female lead vocalists and intricate harmonies.
"Dande And The Lion taking their next step up right here. They've always had a tight sound but I really like the way that [Cheap Choice] strides into that gliding chorus" - Dave Ruby Howe, Triple J.
Their latest track 'Cheap Choice' is out now!