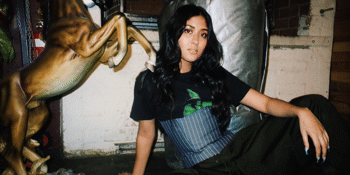 WME presents
CANCELLED - ASHWARYA - 9:30pm Session
with Special Guests
The Chippo Hotel (Chippendale, NSW)
Thursday, 12 August 2021 9:30 pm
In ASHWARYA's hands, pop just hits different. Only a year into her career, and the 21-year-old Indian-born Melbourne native is already known as an innovator and a disruptor, someone for whom surprise is a native language. In ASHWARYA's music, every left turn is met with a trap-door; her sound traverses rap and pop, bhangra drumming and R&B trilling.
ASHWARYA's first three singles were three silver bullets aimed squarely at the status quo, which never missed their marks. Her debut "PSYCHO HOLE" was universally acclaimed, with critics lauding its spine-tingling, ultramodern fusion sound. triple j added the song to full rotation, while DSP support included a cover spot on Pop N Fresh, and additions to over 20 New Music Fridays. Since releasing "PSYCHO HOLE", ASHWARYA has also been embraced by the fashion industry, and has been profiled in fashion bibles PAPER, Oyster, The Face, ACCLAIM, and COMPLEX, among others.
Now, ASHWARYA is moving on to more intricate sounds, more nuanced feelings. "To The Night", her first single of 2021, rides the same kind of shapeshifting beat that typifies songs like "PSYCHO HOLE", but the feelings are darker and more complex here, evoking the neon-toned fantasy world of The Weeknd.
2021 is also set to see the release of ASHWARYA's debut EP Nocturnal Hours, a glamorous and insightful look into the mind of a young pop auteur. The EP is ASHWARYA at her purest, and speaks to her ambition to not only become a fixture of the pop landscape, but to stay true to her distinct personality and sound throughout. If "PSYCHO HOLE" and "COMIN@ME" were enticing tastes of ASHWARYA's world, Nocturnal Hours is a decisive statement of intent and power. Modern pop has long been overdue for a shake-up like this, a paradigm shift that changes the game completely. ASHWARYA is here to lead the way.
TICKETING INFO
Shows will be seated and limited to 50 due to social distancing measures
Upstairs kitchen will be open and running a $15.00 burger + schooner of beer or cider deal for those who have purchased a ticket to the show
All customers entering the premise must sign-in by providing accurate contact details via the venue's QR code sign in registry at the entrance of the venue which is designed specifically for contact tracing if necessary.
The venue will be taking a number of precautionary measures to ensure patron safety, including:
Hand sanitiser dispensers on entry and through venue
Signage and social distancing markers throughout the venue
Regular sanitising of the venue and full clean between sittings